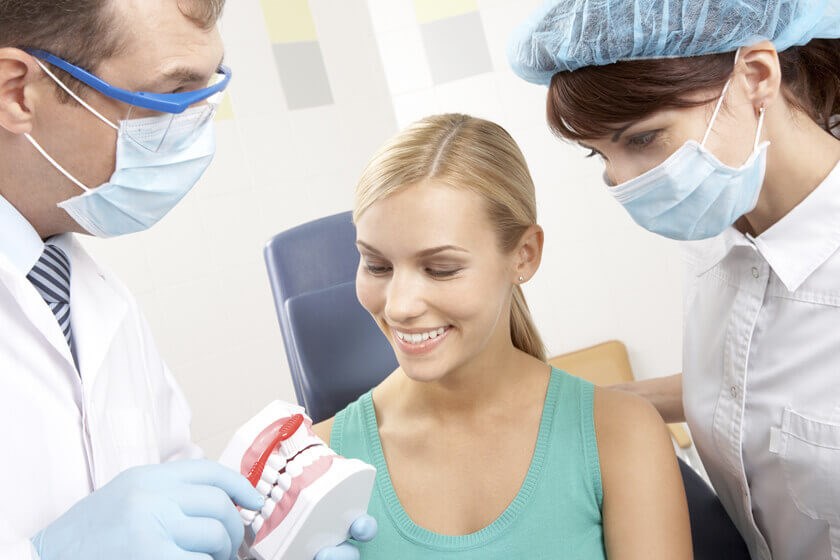 The smile is typically the first thing anyone will notice about someone. A beautiful smile is often one of your most distinguishing characteristics. We usually watch commercials and digital promotions that show photogenic actors with gorgeous white smiles encouraging us to brush no less than twice every day. While you might be succeeding in this, do you honestly pay attention to how you care for your teeth?
There are anywhere from 300 – 700 types of bacteria taking refuge in your mouth. When you fail to brush and floss your teeth correctly, these bacteria will stick to food particles and plaque deposits, which eventually results in tooth damage and many other oral problems. If you fail to clean your teeth every day, or if you don't stay aware of your method of brushing, you could heighten your likelihood of forming cavities, gingivitis, and even jaw and gum recession between the teeth.
Proper dental wellness starts with developing the correct techniques. As effortless as cleaning your teeth might feel – you've doubtless been performing it since you were about four years old – barely any people take care of their teeth as well as needed to keep up their dental wellbeing. Although you could be making mistakes when you brush and floss, there are the means to resolve them. To help end oral health concerns before long-lasting conditions can arise, you should schedule a dental consultation with our dentists at Eastview Dental Care in Garland, TX no less than once per year.
If you stop for a minute and review your tooth brushing methodology, is it likely you could be making several mistakes without even being aware of it? If one or more of the mentioned mistakes sound like you, Eastview Dental Care in Garland, TX can help you develop effective oral practices for the time to come.
NEGLECTING TO REPLACE YOUR TOOTHBRUSH FREQUENTLY
The experienced team of dental practitioners at Eastview Dental Care encourages everyone to upgrade their toothbrush every three to four months. Worn and weak toothbrush bristles will not be able to keep your teeth free of plaque. Eventually, toothbrush bristles fail to maintain flexibility and aren't fit to completely clear out the plaque in your mouth. Also, bacteria and plaque can accumulate on a toothbrush after long-time use, which can generate many oral issues. Try to remember to get a new toothbrush every few months.
TRY NOT TO BRUSH TOO BRIEFLY
Devoting just one minute to brush your teeth is an enormous mistake. The normal amount of time a majority of people devote to brushing their teeth is 40 – 60 seconds, which is not at all an adequate amount of time. The experienced team at Eastview Dental Care urge everyone to brush their teeth for at least 2 minutes twice a day. Any time below that might not give the fluoride in the toothpaste ample time to absorb into your enamel. To guarantee that you're giving a good deal of time to caring for your teeth, keep the timer on your smart device every time you brush.
IT'S BAD TO CLEANSE YOUR MOUTH AFTER BRUSHING
The majority of us are potentially guilty of rinsing out our mouths when we are through with brushing. In fact, rinsing out one's mouth tends to be a common behavior for many patients. Even so, doing this seriously decreases the efficiency of the fluoride from your toothpaste, including its ability to guard your teeth. In place of water, use a mouthwash made with fluoride to rinse out your mouth when you're finished brushing.
AVOID CLEANING TOO VIGOROUSLY
"More forceful" is in no way a good idea concerning brushing your teeth. A tender technique is all that's necessary to clean your teeth properly. Though you may be under the impression that brushing your teeth more aggressively will get rid of more of the bacteria and plaque that result in cavities and other dental problems, the reality is that this will often cause other concerns. Extra pressure could actually promote gum recession. Rather than scrubbing aggressively, brushing your teeth should be similar to a soothing massage.
KEEP YOUR TOOTHBRUSH IN AN UPRIGHT POSITION TO DRY WHEN YOU'RE THROUGH WITH BRUSHING
The dental professionals at Eastview Dental Care urge everyone to keep their toothbrushes bristle end up and let them get plenty of air. When you position a recently used toothbrush in a covered jar, it could gather harmful bacteria.
TRY NOT TO USE BRISTLES THAT ARE TOO ROUGH
Many men and women think that stiffer toothbrush bristles are more efficient for cleaning teeth because the bristles are what expels dangerous bacteria and food particles from the mouth. However, firm bristles are not right in terms of brushing your teeth. Firm bristles could wear away the structure of the teeth by eliminating the protective film of your enamel]. Due to this, you might end up with tooth sensitivity. This is when your teeth feel discomfort when you eat something hot or cold. Firm bristles will also break down the gumline. Our experienced dental practitioners at Eastview Dental Care are always pleased to guide you toward the right bristle firmness for your optimal oral wellbeing.
QUIT USING POOR BRUSHING TECHNIQUES
Appropriate technique has a significant effect with reference to brushing your teeth. To achieve a comprehensive clean, you should focus on several areas, including the front, back, top, and bottom surfaces of the teeth. Furthermore, the gum tissue, tongue, and the roof of your mouth should be included. The dental professionals at Eastview Dental Care urge people of all ages to follow these basic guidelines:
Make sure that your toothbrush targets the teeth and gumline.
YOU SHOULDN'T FORGET THE VALUE OF FLOSSING DAILY
To manage your oral health, it's crucial to floss each day. Flossing once a day helps to eradicate the tartar that lies between your teeth, especially in areas where your toothbrush is not able to reach. Food debris that is not expelled turns into solid deposits on your teeth and gums, which could result in an array of dental problems.
BEGIN FORMING BETTER TOOTHBRUSHING PRACTICES TODAY
Usually, it takes 6 – 8 weeks to form better habits. Making an effort to introduce one worthwhile habit to your toothbrushing technique each week could prove productive in the long run. Utilizing appropriate toothbrushing methods in conjunction with biannual visits to Eastview Dental Care in Garland, TX will guarantee your lasting oral health, plus reduce your potential of needing invasive dental treatments down the road. Get in touch with the team of exceptional dental professionals at Eastview Dental Care. We provide a comprehensive range of preventive care and restorative treatments for the entire family.