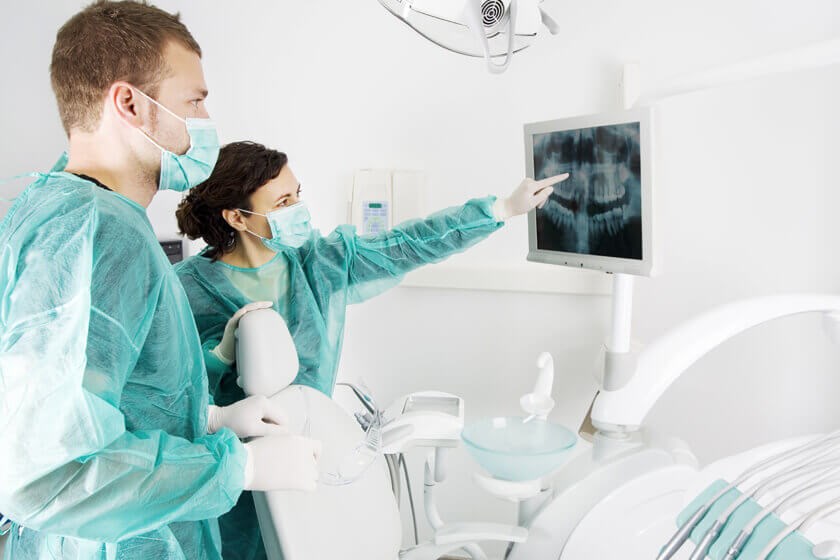 Men and women who have lost a few teeth aren't alone: A number of men and women in Garland, TX could notice themselves experiencing dental health conditions that can bring about tooth loss. In fact, around 175 million – 180 million women and men in this country have experienced the loss of a single tooth or many. Losing any of your natural teeth leads to adverse effects that usually harm your dental health and emotional security. After teeth are pulled due to deterioration from serious tooth decay, jawbone weakening, or other oral issues, filling the empty space right away provides the best-case situation for your teeth and health. Implants are, at this moment, a favored solution for substituting permanent teeth because of their long-term wellness and visual advantages. Our team at Eastview Dental Care have years of technical expertise in dental implant options. Our dentists will help you decide on the most beneficial tooth replacement solution for your unique needs and aesthetic wishes and whether implants are the best direction for your smile's wellness.
THE MOST EFFICIENT OPTION FOR RESTORING TEETH
Reputed for their highly life-like characteristics, dental implants are unlike most other tooth restoration options performed. Implant dentistry provides a versatile range of tooth replacement options and might address any number of teeth, from just one lost tooth to a whole mouthful. Those who are aiming to switch from old-fashioned tooth restorations to a longer-lasting option could be potential candidates for this preferred treatment. A majority of patients have been choosing implant dentistry to bring function, improved health, and cosmetic appeal back to their teeth. Dental implants appear, feel, and operate very much like natural teeth. Having features that closely emulate those of real teeth, it's unsurprising that dental implants are considered the best option for tooth replacement.
HOW IMPLANTS SERVE THEIR PURPOSE
The unique design of the implants replicates the shape of natural teeth. Dental implants use medical-grade metal posts that act as an imitation tooth root, as well as lifelike crowns that restore effective structure and function to the smile after tooth loss. Over a period of 3 – 6 months, implants go through an osseointegration period where they bond with the bone and become a fixed part of the mouth. Implants fuse into the bone to replace a tooth root for long-term stability and unparalleled support.
DENTAL IMPLANTS GIVE LONG-TERM OUTCOMES
When to replenishing lost teeth, a great number of people look for an answer that brings long-term results. Implant-supported restorations are currently the sole tooth replacement solution that fuses with the bone, acting like natural tooth roots. This fusion provides a solid structure that allows oral crowns to stay fixed. The titanium posts are won't deterioration and virtually never need replacement. Therefore, a person can have a healthy smile for the long run. If implant-supported restorations are placed by a thoroughly trained dentist who employs modern techniques, this solution carries an incredibly high rate of success.
SEE MORE COSMETIC PERKS
An appealing feature of dental implants is the realistic aesthetic qualities this tooth restoration solution gives to people. Our team at Eastview Dental Care designs customized fixed restorations that vary in shape, length, and shade to blend naturally with nearby teeth. Implant-supported crowns and dentures look and feel like natural teeth and are nearly indiscernible from real ones. Implants should also help individuals keep a natural-looking jaw shape as well as prevent the skin sagging that commonly takes place when teeth are missing. One-piece implants made of crowns substitute single missing teeth, while implant-supported bridges and half- or full-arch dentures are used to manage an entire arch of teeth. In fact, patients should be aware that even a whole arch of missing teeth might be properly replaced with a beautiful, full-arch denture.
IMPLANT-SUPPORTED SOLUTIONS MIGHT IMPROVE YOUR OVERALL LIFE
Utilizing dental implants as an answer for tooth replacement will often provide an array of positive changes to general quality of life, particularly for men and women who have been suffering from lost teeth or have had deteriorating teeth for a while. Since the titanium posts are placed solidly within the jawbone, implants offer a notably consistent biting power. Implant-supported solutions do not shift, rock, make noise, or slide. They also don't require sticky substances to stay in position. Since dental implants are held in place with a sturdy titanium screw within the bone, these restorations can allow people to bite, chew, and speak normally. People who select this service could enjoy their most-treasured foods and smile with a newfound sense of self-assurance and not have to be concerned with the state of their dental wellness.
COULD I BE A GOOD CANDIDATE TO HAVE DENTAL IMPLANTS?
Dental implants are a reliable treatment for people hoping to gain back their smile, quality of life, and dental health following the loss of adult teeth. Implant-based solutions are specially made to reestablish the aesthetic appeal and health of your smile. While this option is viable for a number of people, dental implants do require adequate bone strength and disease-free gums to work. If jawbone regression or other problems are hindering you from being thought of as a suitable candidate for fixed implant restorations, our staff can recommend advanced treatments to improve the state of your dental/oral wellness and develop an environment that lends itself to implant success.
When your overall wellness has been hampered by lost teeth, dental implants can serve as a reliable solution for tooth restoration. Our team at Eastview Dental Care is prepared to assess your unique concerns and assist you in figuring out if implant-supported restorations could be appropriate for your dental wellness. We encourage you to call our Garland, TX facility as soon as possible and start the path toward benefitting from an improved life.